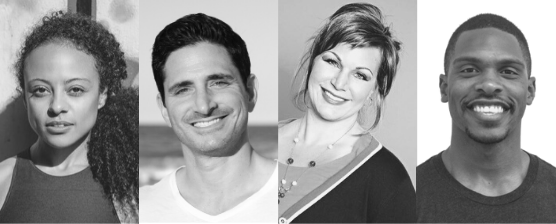 We've assembled a stellar team of professionals to bring you comprehensive content when it comes to building healthy habits. Sarah Enouen, Dr. Marc Boff, Erin Feil, Dunte Hector, and Jamie Ferrel are collectively experienced in physical therapy, personal training, nutrition, yoga, habit change, and addiction recovery – and they're some of the most inspiring humans we know.

We'll be leveraging their knowledge and insights to give you the advice, information, and resources you need to #conqueryourcant.
Without further ado, meet the Primal 7 Wellness Team:
Meet Sarah Enouen
About Sarah:
Sarah is a fitness professional in Austin, TX. With certifications in personal training, nutrition, and corrective exercise, her passion is to help people better their lives from the inside out. Through movement, nutrition, and healthy habits her goal is to help YOU live your healthiest life.
What does movement mean to her?
"Movement to me is a way to stay connected to my body, to take care of my body, and to enjoy my body. Movement means different things to different people and I respect that it is not the same for everyone."
Why does she do what she does?
"I am a people person. I love connecting. I do what I do because I thrive off of healthy, supportive connection. Being part of the foundation of someone's success is invigorating! It gives me life. I learn so much from my clients, too. We are making real connections when we train, not just going through motions. I love sharing knowledge that someone can take with them the rest of their lives and have it make a positive impact, always."
What's the best advice she ever received?
"The best advice I ever received was that I needed to change the way I talked to myself. I am a recovering perfectionist and used to have some really deadly self-talk. Once I learned to start practicing self-compassion, everything started falling into place for me to be settled and happy with who I really am. That led me to let go of a lot of external expectations, which in turn has allowed me to find my true calling in life: helping others lead a healthier life. Through self-exploration, self-compassion, and positive self-talk I have been able to find joy in myself and from myself. I have been able to let go of a lot of unhealthy habits that did not serve me in life. That one statement changed my life. It saved me really."
Meet Dr. Marc H. Boff
About Marc:
Dr. Boff is a Doctor of Physical Therapy, a Certified Athletic Trainer, and a Strength and Conditioning Coach who is not only an expert in his profession but is also extremely passionate about the intersection of health, wellness and function. With over 20 years of professional sports experience as a physical therapist and trainer for the NBA, he has been able to transform bodies and change lives with incredible success. His Los Angeles-based company, MHB (Manage your Health and Body) Fitness, grew from his own philosophy to take ownership of managing one's health and body. MHB Fitness is a concierge health and wellness service that specializes in providing an elite level of individualized client care in addition to consulting services.
With the belief that optimal physical health can only be achieved in conjunction with optimal mental and spiritual health, Dr. Boff utilizes a comprehensive approach incorporating human movement with lifestyle to create customized programs designed to meet the specific goals of each individual.
Dr. Boff has also served as the Director of Sports Medicine for NBC's reality weight-loss series "The Biggest Loser." His NBA tenure includes serving as the Head Athletic Trainer and Physical therapist of the Milwaukee Bucks, Assistant Athletic Trainer and Physical Therapist of the Chicago Bulls, Head Strength and Conditioning Coach and Physical Therapist of the New Orleans Hornets, and Assistant to Head Athletic Trainer and Strength Coach of the Boston Celtics. 
What does movement mean to him?
"Movement is one of the main curatives of our physical being, offering us multiple health benefits physically, emotionally and spiritually. Each and every person was born to move, it's our inherent biological right as humans regardless of any obstacle, whether it's self-imposed or out of our control."
Why does he do what he does?
"I truly enjoy helping people achieve their goals while being the healthiest and best version of themselves.

Following my freshman soccer season at college, I chose to work as a student athletic trainer, helping my fellow student athletes return from injury. From there, over the course of my 20 seasons in professional sports, I learned that truly helping someone through challenging injuries and pain required working across a multitude of variables, not just the physical rehabilitation component. In addition to the physical challenges, each and every person also presents with specific emotional, spiritual and lifestyle challenges, all holding equal or more bearing on achieving their desired outcome. To me, there's no greater reward than being able to assist a person through their challenges on their journey of health and wellness."
What's the best advice he's ever received?
"The two pieces of advice I try to adhere to are:
1- It's better to have understanding than be understood.
2- You are your own worst enemy and own best weapon."
Meet Erin Feil
About Erin:
Erin is a 500 RYT yoga instructor in Austin, TX, and is in the midst of studying for her personal trainer certification.  Minoring in philosophy, she had her first big brush with yoga in an undergrad course. Since then, she has taught classes, workshops, and private sessions in studios all over town.  
What does movement mean to her?
"On my path to understanding myself and others, as a teacher and as a student, movement has been key.  Our bodies are excellent, pretty straightforward tools we use to expand our understanding of how we work as thoughtful, emotional, energetic, physical beings - we're complex, and movement is simple.  We move to ground and build ourselves, we move to explore, we move to temporarily get out of our headspace and change our perspectives.  Whether it's rigorous training to change what we're physically capable of, or whether we take a quick break from the computer screen for a morning stretch, our bodies are something we can always connect with immediately.  That's something I continue to cherish - that easy-to-grab tool in my toolbox that keeps me present." 
Why does she do what she does?
"Initially I got into yoga to fill my Instagram feed with pics of myself doing crazy poses.  I totally admit it.  Now that I have more firm footing in my path, I'm here to help others get on their own toward wellness and enlightenment.  Having dealt with my own injuries and healing processes, I've been moving toward a more therapeutic approach in the way I teach, with all paths heading toward mindfulness."
What's the best advice she ever received?
"I grew up with a sort of general assumption as a young athlete that if you can't give yourself a full hour of exercise or more, there's no point.  Sometime in the early aughts a teacher told me that's just ridiculous - any time you can move around and be intentionally physical, whether it's for 10 minutes or 2 hours, is time well spent."
Meet Dunte Hector
About Dunte:
Dunte Hector is an athletic performance specialist based in Boulder, CO. For 10 years, ATX Speed and Strength has enabled busy professionals to continue being successful athletes, helping them become stronger, faster, and leaner around competition, work, and family schedules. Dunte's training philosophy is built on ACE's Integrated Fitness Training model, StrongFirst kettlebell training methods, proven techniques and progressions from elite coaches, and his own athletic experiences.
Dunte began as a college Campus Rec personal trainer. Since then, he has been an ACE-certified personal trainer, a StrongFirst SFG kettlebell instructor, an FMS Functional Movement Screen practitioner, a Master Educator for Stages Cycling, and Master Trainer for Primal 7. Alongside his "other" career as an engineer, Dunte was also a competitive Masters sprinter and Olympic weightlifter, and is an active bike racer.
What does movement mean to him?
"Movement is how we enjoy life. It is the kicking and rolling of an infant as they learn to control themselves. It is the joyful jumping from furniture and climbing trees of a child as they play. It is the athletic skills and dance steps of an adult as they relax from work. It is the pride and confidence of an independent older person as they continue to try new things.
To me, movement is fundamental to being human. We don't know how integral it is to everything we do until we lose it, so I'm devoted to helping people regain and appreciate it."
Why does he do what he does?
"I've been in peak physical condition for sports and I've been rundown by stress and obligations. Honestly, both scenarios severely compromise just 'feeling good' in your body. But they don't have to. Athletic excellence as an amateur can exist with giving up everything, without creating functional imbalances, and without joint pain. Being good professionals and good parents is possible without sacrificing our own self-care, without neglecting our bodies, and, again, without joint pain. 
Based on my own experience and that of the 400+ athletes I've helped stay healthy, competitive, and enthusiastic despite a myriad conflicting life demands, I want more people to have it all – feel good, be capable of doing whatever activities they love, and continuously improving without pain. Learning to move well comes first, so teaching people to move again is my primary mission."
What's the best advice he's ever received?
"The best advice I was ever given was to set my expectations of myself higher than anyone else's.
When I started as a personal trainer, I successfully helped some people lose weight, but I wondered how it could be faster and simpler. When I shifted to teaching healthy habits, I helped more people lose weight and improve health metrics like blood pressure, but I wondered how they could also build more confidence. When I worked with my first amateur athletes, they got better on the field and the court but were constantly struggling with tone management, so I wondered how to optimize training time around real-life.
In my engineering career, I'm always wondering how to do a little more, just a little better, with a little less effort. My athletic goals and training habits get scrutinized in the same way. There is never a "good enough", yet I mean that in a joyful way. 3 incredible mentors taught me to always believe I could improve whatever I touch, but that I would have to constantly work and wonder and fight for those improvements. It is far too easy to become complacent and we all know how disappointing it feels to accept another person's standards or to perform below our potential. Keeping my expectations of myself higher than those of my athletes and my managers is the only way to keep that fire to improve burning. I remind myself of their advice every morning and every night!"
Meet Jamie Ferrell
About Jamie:
Jamie is a yoga teacher, wellness writer, EFT practitioner, and health coach for Noom. A former college athlete, Jamie's love for holistic well-being came after navigating a series of challenges stemming from injuries and weight gain in order to transform her outlook on wellness. Her approach is to make changes at a slow and steady rate, which ensures sustainable habits are built, and to address the underlying emotional and mental barriers that impede physical progress. In her free moments, she's spending time with her two young kids and husband, traveling, or working on projects that promote positive change. 
What does movement mean to her?
"Movement is freedom. It is the full expression of agency that I have over my body, and daily movement is imperative to my mental well-being." 
Why does she do what she does?
"I believe in the power of connecting with others, whether it's through a few kind words, a yoga practice, or a deep dive into their transformation. We aren't meant to navigate life alone, and I very much value the ability to be a helper to others who are figuring out what a healthy lifestyle looks like for them."
What's the best advice she has ever received? 
"Honestly? It was something my tattoo artist said! I was complaining about the pain during a session, and he simply said, "Yeah — but the pain is temporary. You'll have the beauty of the art forever." Mindset shift! This can apply to everything. Challenging situations are always temporary, but the beauty of how those situations can transform us is always ours to keep." 
Meet Joel Grace
About Joel:
Since becoming a physical therapist in 2007, Joel has had the opportunity to impact the lives of hundreds of individuals spanning all life stages and abilities, from numerous athletes recovering from ACL reconstruction to a 106-year old with severe vision and hearing impairment hoping to regain her ability to walk. His career has been defined by the many extensive and deep interactions he has had with clients who are striving to overcome various injuries or impairments that are preventing them from achieving their mobility goals and negatively affecting their quality of life. These experiences have solidified his dedication to restoring value to the profession of physical therapy through innovative and science-based delivery models. His ambition is to empower clients to actively participate and engage in an individualized treatment program with a strong foundation in client education supported by a thorough evaluation and assessment. 
He currently lives in Houston, Texas with his wife, two kids, and pets. He obtained his bachelor of science at Baylor University in Waco, Texas in 2004 and his master of physical therapy at UTMB Galveston in 2007. He lived in Austin for 8 years where he worked for Austin Sports Medicine and then founded his own physical therapy practice. He has served as clinic director at two different outpatient physical therapy facilities and as adjunct professor of anatomy in the physical therapy assistant program at Houston Community College in the Medical Center. As a member of the Primal 7 team, he hopes to reach people that share similar goals and passions as his and to provide valuable dialogue and information within the community.
What does movement mean to him?
"Movement is the way in which we connect with our world. Movement is the primary vehicle in providing the ability to communicate through both verbal and non-verbal methods, to show affection, to experience pain and to experience pleasure, to show reverence and to exhibit defiance, to care for oneself and to care for others, to connect with one's spirituality, to push the limits of one's own capacity, and to find stillness in the midst of chaos. It can be as effortless as blinking your eyes and as challenging and multifaceted as climbing a mountain. Movement shapes our human experience and shapes the experience of every life in our planet."
Why does he do what he does?
"My passions as a child were deeply rooted in science and physical performance which led me to the profession of physical therapy. I've had invaluable experience as a physical therapist for 13 years through addressing mobility and pain conditions in people of all ages and sizes. I have come to learn that education is the most valuable tool I can provide and it is the focus of my approach when it comes to helping clients achieve their goals"
What's the best advice he has ever received?
"The best advice I've ever received was to 'embrace the suck'. It's a military saying but it applies to everyone. It's not a declaration of surrender or unwillingness to change your current situation but serves more as a reminder that there are times when life is challenging, when there isn't a clear path, or when things hurt and we may not be in a situation to change them immediately. Instead of focusing on the negative in a situation and getting mired in self-pity and alternate realities, you accept the reality of a situation and move forward in the face of it."
Meet Jenna Ellis
About Jenna:
Jenna has been a Physical Therapist for the past ten years. She has specialized in orthopedics, post-op surgical patients, and young athletes most of her career. Jenna has also worked in the homecare setting and loves getting people back of all ages into the game of life.  Prior to becoming a Physical Therapist, she was an Athletic Trainer working with high school and college-level athletes. Her favorite part of working with athletes was seeing them get back into their sport after surgery.  
Jenna loves being active on a daily basis. She loves running, yoga, her local Crossfit box, and trying to keep up with her toddler. She lives in Sarasota, Florida with her husband, young son, and two dogs. She obtained her Bachelor's Degree in Sports Medicine Athletic Training from the University of South Florida in 2007 and then went on to graduate from the University of Central Florida with a Doctorate in Physical Therapy in 2010.


What does movement mean to her?
"To me, movement means everyday life! Whether it be chasing after my young son, running, hiking, or going up and down the stairs at home, we use movement all day every day. I love working with people and showing them how much movement potential they have that they never realized and then putting it into everyday practice."


Why does she do what she does?
"I love doing what I do because of how much I've personally enjoyed being active and healthy through life thus far. I want others to realize their potential and see them flourish and live their best life with as little pain as possible. Seeing the transformation that happens in patients and hearing them say how they taught their spouse how to squat properly from a chair or get up from the ground without difficulty is music to my soul."


What's the best advice she has ever received?
"The best advice I've ever received is don't settle for mediocre. Find what makes your body thrive and your mind tick. It opens you up to many more experiences and things you may never have thought you could do!"