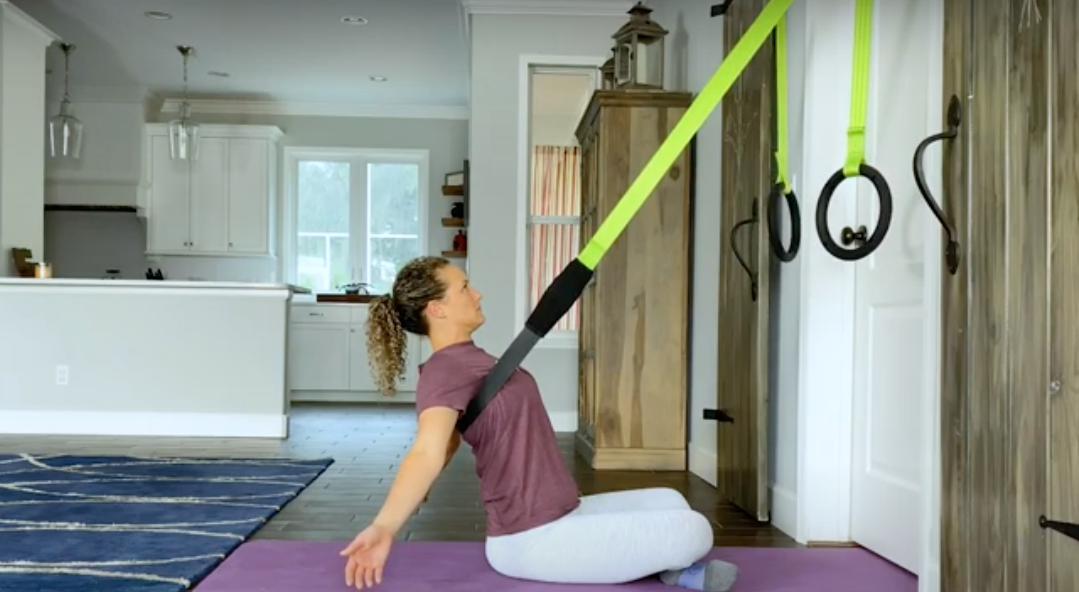 Tight muscles and stiff joints limit our range and quality of motion, regardless of whether they stem from exercise or everyday actions. Did you know that your hip flexors, chest muscles, and back of neck all get tight just as a result of spending your day sitting down? Or that your calf muscles tighten up and shorten up just as a result of wearing heels? Essentially all of the actions and postures we repeat regularly can cause tightness. Stretching is the antidote and the good news is it feels great.
This new program is all about improving flexibility and mobility. Tune in and follow-along to: loosen up stiff muscles, improve your overall flexibility, expand your range of motion, and give your body some TLC.
What is it?
Our Flexibility Program is made up of four key videos that fuse instruction with follow-along routines. The first video guides you through gentle full-body stretches. It is beginner-friendly and lays the foundation for the other routines, which zero in on specific parts of the body; lower body, spine, and upper body.


This program can help you:
Improve your overall flexibility

Increase your range of motion and improve your movements

Loosen up your lower body, hips, spine, torso, neck, arms, and chest 

Improve your posture

Reduce muscle tightness and soreness

Lengthen your muscles

Balance out strength-building exercises


Is this program for you?
This program was designed for anyone who…
wants to improve their flexibility

wants to improve their mobility

is looking for stretching routines to round-out their workouts
What to expect:
All four videos in this program are fifteen minutes long. In each one, Jenna demonstrates how to do the stretches and exercises properly, then provides instruction to guide you through follow-along routines. 
Video One is ideal for beginners and gently stretches your body out, from head to toe. We recommend that everyone begin with that one as it lays the foundation for the other videos, which are considered beginner-to-intermediate.  
Beyond that, the videos are not progressive, meaning you do not need to do Video Two to do Video Three. You can go in order or jump ahead to the routine that lines up with the body part you wish to stretch out. Or, you may choose to keep repeating Video One. The key is to listen to your body and do what feels right for you.


How much time will it take?
The educational Program Introduction video is less than five minutes long. The main four videos, which contain the routines, are fifteen minutes long.
Staying mobile and flexible is an important part of movement at every stage of life. We encourage you to do one or more of these flexibility videos on a regular basis, for years to come. If you keep up the consistency, you will notice improved motion throughout your body.


How to get started:
Please consult your healthcare professional before you begin any new program.

For this program, you'll need a Primal 7 system, a small to medium-sized ball (like a golf ball or tennis ball), and the videos below. You may also want to use a yoga mat or towel for added comfort.
Program Introduction: Unpacking Mobility & Flexibility
Video 1: Full-Body Flexibility, Gentle Stretches
Video 2: Lower Body Flexibility Routine
Video 3: Spinal Flexibility Routine
Video 4: Upper Body Flexibility Routine
About our Instructor:
Jenna Ellis is a Physical Therapist. Throughout her ten-year career, she has specialized in orthopedics, post-op surgical patients and young athletes. Jenna has also worked in the homecare setting and loves getting people of all ages back to the game of life.  Prior to becoming a Physical Therapist, she was an Athletic Trainer working with high school and college-level athletes.
Jenna obtained her Bachelor's Degree in Sports Medicine Athletic Training from the University of South Florida in 2007 and then went on to graduate from the University of Central Florida with a Doctorate in Physical Therapy in 2010.
You can learn more about Jenna here.
We're listening.
We hope that our Flexibility Program helps you improve your everyday movements and Conquer Your Can't.  We'd love to hear about your progress and are always open to suggestions as to what we can do to make our programs better. Whether you want to share an update, request a new program, or give us feedback, don't hesitate to reach out.
You can comment below, email us at info@primal7.com, or call us at 512-899-2054.